Custom Picture Framing and Much More
On Hertel Avenue in Beautiful, Historic, Hip, and Happening  North Buffalo
 50+ years of framing experience
Located on Hertel since 1982
4/20/22 UPDATE
SHOP HOURS:  Noon to Four, Tuesday through Saturday.
  Shop is back open again, and I have mostly mastered clumping around in the blessed/cursed air boot.  I am  using a cane to get around (never did manage to navigate in crutches without looking like a newborn giraffe).  Foot is healing nicely and ortho feels if all goes well I will be free of the boot by the beginning of May.

Mama Lucy is thrilled at my return although I fear she was grievously overfed in my absence.  So she is less than thrilled to be back on a diet again. 
Spiral fracture of 5th distal metatarsal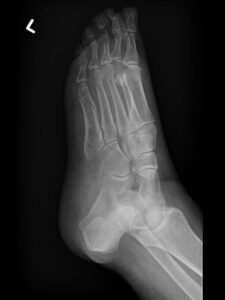 Framing will be proceeding albeit slowly.  I have a huge backlog but things are progressing.  The supply chain has become less of a problem as time goes by.
If you have framing jobs or repair projects left before all this happened, everything is safe and secure. All jobs not already completed will be finished  as I manage to gather momentum and standing becomes less of a problem.  I finally have (almost) all of the ingredients for all orders as the few out-of-stock items are becoming available again.

The best (and only) way to contact me is to make an  actual old-fashioned phone call.  716-832-3900.    I do not have a smart phone, I do not text.  (If I had Internet at the shop I would never get any framing done.)
If you need to reach me, you can find me on Facebook:
https://www.facebook.com/StateoftheArtBuffalo/
*********************************
We talk with people – we listen to people – we frame and fix "stuff" for people.  Bring us a challenge – we think we can do anything!   (You may think I am using the "royal we" but there are two of us in the shop – Mar and Mama Lucy the rescued kitty!  Mar does all the work – Mama Lucy observes, meows constantly, and happily accepts treats.)
We proudly present a kaleidoscope of our services:  outstanding custom picture framing (matting, frame repair, glass replacement, needlework, and shadowboxes, etc), superlative photographic restoration, and the meticulous  repair of an infinite variety of your precious personal artifacts.  
I have been spending all of my energy working on our Facebook page.  Have fun looking through the many albums of photos of framing and restoration projects (plus a lot of pictures of the gorgeous Mama Lucy, who is now known as the tubby tortie). Give us a Like, thanks!  To contact State of the Art, please leave a message on this Facebook page.  Your message will be answered as soon as Facebook deigns to show it to me.  You can also phone (716-832-3900) and leave a voice message on my old-fashioned answering machine (on my copper-wired land line).

https://www.facebook.com/StateoftheArtBuffalo 
State of the Art
1781 Hertel Avenue
Buffalo, New York 14216
716-832-3900
"We may not be big but we're small." 
(Thank you and RIP Stuart McLean)

What is the state of your art?